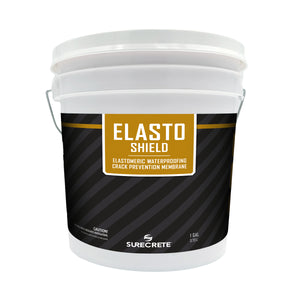 Elasto-Shield - Waterproofing/Crack Suppressant - 1 Gallon
Elasto-Shield™ by SureCrete, is a ready-to-use concrete waterproofing and crack-prevention elastomeric liquid membrane that protects concrete overlays and epoxy coatings systems. ELASTO-SHIELD reduces crack transmission in floors and walls, forming a continuous waterproofing barrier with outstanding adhesion.

Ready-to-use

Roll-on Application
Covers approximately 150 square feet per gallon, depending on substrate porosity, texture, and application method. 
This is extra product for these projects:
Data Sheets