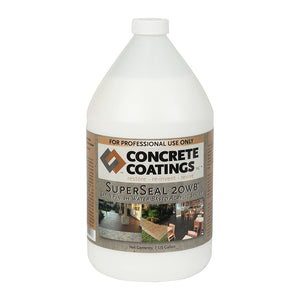 Concrete Coatings SuperSeal 20WB Water-Based Acrylic Sealer - Satin - 1 Gallon
Concrete Coatings SuperSeal 20WB is a water-based, low-VOC, non-flammable, and non-hazardous acrylic sealer designed to provide a satin finish to interior and exterior applications. 
Excellent stain and chemical resistance
Outstanding durability and protection
Low odor and very low VOCs
UV stable and a perfect choice for interior and exterior application

This is an extra product for these projects:


Where Should Concrete Coatings SuperSeal 20WB Be Used?

Odor-sensitive locations
Schools
Apartments
Offices
Restaurants
Horizontal and vertical
Interior and exterior
Freshly placed and finished concrete
Aged concrete
SuperSeal™ 20WB may be applied to many porous surfaces, including stone, brick, manufactured stone, overlays, and many types of tile. We recommend you apply sealer to a small section of the substrate to ensure proper adhesion.
Coverage: 300-400 sq. ft. /Gal
Appearance (cured): satin
Appearance (wet): milky liquid
Set to Touch: 30 Minutes
Set to Recoat: 1.5 Hours
Set for Light Foot Traffic: 4 Hours
Set for Normal Traffic: Overnight
Maximum Hardness: 7 Days
Data Sheets