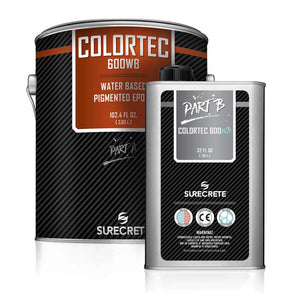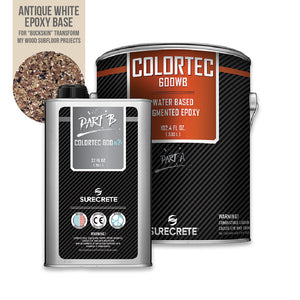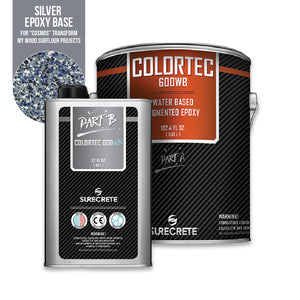 ColorTec 600WB - Pigmented Epoxy - 1 Gallon Kit
ColorTec 600WB™
, by SureCrete, is a two-component, water-based, pigmented epoxy coating system. Used as the base coat for vinyl epoxy flake projects like
Transform My Wood Subfloor
 and metallic epoxy decorative floors, ColorTec 600WB offers a premier balance of strength, flexibility, and chemical resistance, all in a low-odor, low-VOC formulation.  
4:1 mix ratio
1 gallon covers approximately 125-250 square feet, depending on the porosity of the substrate
*The ColorTec 600WB (base coat) will be tinted to the appropriate color for the flake choice, as follows:
Asphalt - Silver Base 

Cosmos - Silver Base

Buckskin - Antique White Base

Savannah - White Base
Extra Epoxy Flake is sold here:
This is an extra product for this project:
IMPORTANT NOTE ON COLOR CHOICE:
The epoxy color you need will vary by the project being completed. Select the color of the flake of your project from the "Color" options, and we will send the coordinating epoxy that matches your project.
Data Sheets