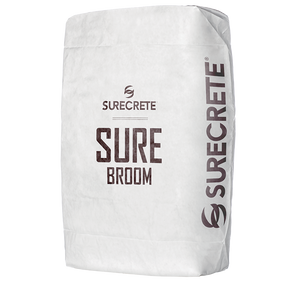 SureBroom - Broom Finish Overlay - 45lb Bag
SureBroom™ by Surecrete is designed to resurface high-traffic concrete surfaces without compromising color, design, or texture. SureBroom is a proprietary, single-component, self-bonding, cementitious overlayment. SureBroom can transform old, spalled, or worn-down concrete by eliminating surface defects, increasing wearability and coefficient of friction (COF).

Gray
4-6.5 quarts water to 1-45lb bag
May be integrally colored with SC Color Packs*
1 bag covers approximately 150-250 square feet
Want to add color to your project?
*SC Color Packs can be purchased separately here.
This is an extra product for this project:
Data Sheets