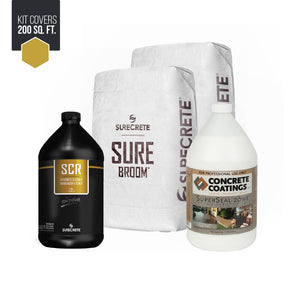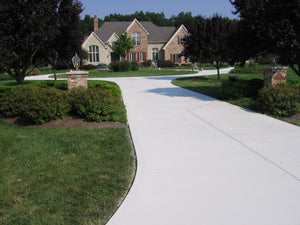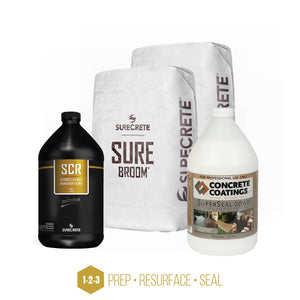 Resurface My Ugly Concrete - Project Kit
Give your old and worn outdoor concrete a facelift. 
Imagine something even stronger than concrete. That's precisely what our concrete overlay offers! With superior compressive strength compared to regular concrete, it not only revitalizes worn surfaces but also saves you the trouble and cost of replacement.
With the Resurface My Ugly Concrete Project Kit, you can effortlessly breathe new life into your concrete, achieving an immediate transformation that enhances its appeal and leaves it looking refreshed and renewed!
The Resurface My Ugly Concrete Project Kit includes the materials you will need to cover 200 square feet:
(1) SCR Cleaner/Degreaser (1 Gal.)
(2) SureBroom Broomable Overlay (45 lb Bag)
(1) SuperSeal 20WB Water-Based Acrylic (1 Gal.)
The optional Tool Kit's items are listed below. 
Project Calculator is Loading...
Want to add color to your project? 
SC Color Packs may be purchased separately here.
The optional Tool Kit can be added to your purchase and includes the tools you will need for this project:
(1) 1-Gallon Plastic Pump-Up Sprayer
(1) 9" Paint Tray
(1) 9" Roller Frame/Cover
(1) Jiffy Mixing Paddle
(1) Safety Glasses

(1) 2" Painter's Tape
(1) 3" Putty Knife/Scraper
(1) 22" Magic Trowel

(1) Stiff Bristle Brush
(1) Finish Broom
(1) Extendable Brush/Roller/Broom Handle
(1) Nitrile Gloves (3-pair)
Extra tool kits may also be purchased on our Tools Kits page.
The DIY Resurface My Ugly Concrete Project Kit is perfect for exterior concrete projects like:
Resurfacing and sealing a concrete patio

Resurfacing

and sealing a concrete porch

Resurfacing

and sealing a concrete driveway

Resurfacing

and sealing a concrete walkway
Instructions and Data Sheets